Choosing the right multitool could be quite a daunting task, with literally hundreds of quality tools to choose from. Leatherman, Gerber, SOG, Victorinox, Buck and just about every knife and tool manufacturer out there have by now offered a multi. In this article, I'll list some of the things you should consider before parting with your hard earned cash (and probably quite a lot of it), so that the tool you buy is the right one for you……

Most people probably don't want to buy every multitool on the market, and that's probably quite rational. So for the multitool newbie, here are my Top Ten things to consider, in no particular order. I've listed examples against each criteria, try the links for more information.
1. Tool Selection:
The available tools or functions of a multitool vary from the minimal (e.g. Leatherman Freestyle) to the many (e.g. Victorinox Swisstool Spirit). It's important that your multitool does the things that you need it to do, so give great thought to it's anticipated use. Not all multitools have full sized pliers (e.g. Buck X-Tract) or any pliers at all (Peter Atwood Prybaby). So it's worth taking the time to figure out what you'll be using your multi for.
2. Legality:
Many modern multitools feature locking and/or large blades, so make sure you know your countries knife laws before buying. There are several multitools in production currently without a knife blade at all (Leatherman Knifeless Fuse, the Frog Tool etc).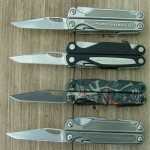 3. Size:
The majority of plier based multitools are approximately 4″ long in the closed position (Leatherman Wave, Victorinox Spirit) and most manufacturers also offer "extra large" tools, measuring approx. 4.5″ in the closed position (Leatherman Surge, Victorinox Swisstool). You will also find pocket tools (Leatherman Juice, CRKT Guppie) and even Keychain sized tools (Leatherman Micra, Gerber Clutch).
4. Weight:
Usually, weight is directly proportional to size as discussed above, but there are some exceptions (Gerber Radius), so if weight is a concern then check the specs before ordering.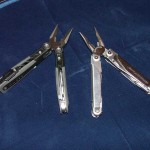 5. Carry Options:
How you intend to carry your multitool needs consideration. Most full size multis will include a belt sheath and a lanyard ring of some description, but relatively few offer pocket clips or other alternatives. Depending on the size and weight of your tool, this should be given some careful consideration, particularly if overt wearing of a sheath is not advisable.
6. Warranty:
Multitools aren't generally cheap (see "Quality" below), and by their very nature, you are likely to be putting your multi in harm's way eventually. Most of the major manufacturers offer excellent warranties, varying between 5 years and lifetime cover. All of the major manufacturers have acknowledged good reputations for honouring their warranties, and competition between them will work to your advantage. Be wary of less well known, cheaper brands as the warranty is an important part of the product you are investing in, so know what you're getting before parting with cash!
7. Quality:
The term "quality' means different things to different people, but I define it as the performance, reliability and standard of the tool you are buying. As with anything, paying less for a multitool does not necessarily mean you've found a bargain, so do your research, ask around and take into account the stories you'll find on the internet, warranty information, and of course – the price you will pay for these things.
8. Tool Accessibility:
More and more multitools are being produced with tools that open externally without the need to open the handles (e.g. Victorinox Swisstool), one hand opening tools (Leatherman Wave, Buck X-Tract) and even spring assisted opening blades (SOG Powerassist). These features may be useful for you, especially if you envisage needing to access tools whilst atop a ladder or dangling from a cliff face!
9. Adaptability:
Any multitool will have a finite number of tools "onboard", but most manufacturers offer adapters or built-in bit holders that allow you to increase your tool's utility. There are too many variations to list here, but some of the more well known are Leatherman's Universal Tool Adapter (UTA) & Removable Bit Driver. Gerber offer a similar optional accessory for their tools as do several other manufacturers. In addition, many new Leatherman tools carry onboard 1/4″ bit holders, or adapters for their own proprietary "flat" bits and Bit Kit. The Leatherman Surge features a T-Shank adapter, capable of holding a variety of saw blades.
10. X-Factor:
OK, I admit I was struggling for ten things, but I think this is fair enough. Although many multitools on the market are designed along similar principles, there are a few manufacturers who like to experiment with radical designs and innovative ideas. Provided all of the above criteria are satisfied, in my opinion there is nothing wrong with acquiring a tool purely because it looks cool. Whether it be the Leatherman Skeletool's striking frame, CRKT's Guppie or the Gerber Flick 's violent plier head deployment, it's great when people ask about your multitool 😉