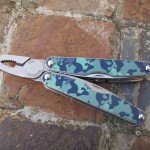 As a collector on a budget, I am resigned to the fact that there are some rare examples of Leatherman tools that I am very unlikely to add to my collection. Every now and then however, I get a pleasant surprise…

Shortly after the introduction of their Juice range, Leatherman for some reason made a limited run of two models (the KF4 and the S2) with camouflage anodised scales for their Australian distributor.
Produced in very limited numbers, each tool was produced in both a green and brown camouflage finish, and they virtually never appear for sale these days!
A bit of good luck on my part however (i.e. I had something he wanted) meant that recently I was able to trade for a Green Camo Juice KF4, which is now one of the centrepieces of my Leatherman collection.
 The hunt is now well and truly on for a Juice with Brown Camo finish – feel free to us the contact form if you can help me out 😉