I've been collecting multitools, particularly Leatherman multitools for several years now and have managed to accumulate around 200 different examples so far. (I've started to catalogue them in this blog). My collecting though has in the main been limited to used tools and bargains found on ebay (when I could) and through internet forums and trades.

I've never really been in the position to justify the expense of the real collectable tools though, my indulgences to date having been limited to a Cabela's Legacy PST and some of the widely available anniversary models.
Thanks to the generosity of a fellow Leatherman enthusiast however, I recently managed to acquire a Leatherman 20th Anniversary Signature Wave number 333, complete with display case and certificate…..
To commemorate their 20th Anniversary in 2003, Leatherman Tool Group released two special versions of the Wave, sporting blackened handles with a white painted 20th anniversary logo. The first version was commonly available (they can still be found new today with a bit of effort) and packaged in clam-packs and standard boxes. The second version (referred to as the "signature" version due to a representation of Tim Leatherman's signature on the black handles) was limited to 500 made, each individually numbered and supplied with a certificate of authenticity as shown above.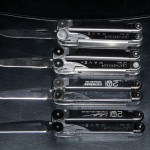 The above images show the signature Wave next to the more common version, along with the standard stainless steel finish.
Needless to say, I am absolutely delighted to be in possession of this rare and collectable tool, and it is proudly displayed on my wall, just above the monitor I'm looking at as I type this. It may not be a user, but it is definitely one of the highlights of my collection.