Very recently, I started seeing pictures of various Leatherman tools that didn't look quite right and it took me some time to put my finger on exactly what was different! It turned out that what I was looking at were variations of several Leatherman tools made specifically for Denmark, where knife laws forbid one handed (OH) opening blades.
In order to get around this, Leatherman made two-handed opening (2HO) variations of many of their multitools, specifically for the Danish market. Fellow blogger AHB has already covered this phenomenon in this mtblog.org article, and has also very kindly arranged for me to get my paws on one.

In exchange for a truck load of other multis, AHB managed to secure me a brand new Charge Ti, one of my favourite tools, even more desirable in this format.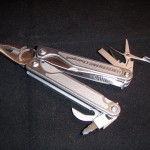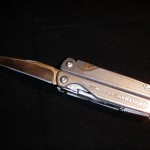 As can be seen in the photographs below, the 2HO tools are essentially the same as the more common standard versions, but the thumb-hole in the blade designed to facilitate OHO is gone, replaced by a more traditional "nail-nick".

Whether retired or current models, the Leatherman Charge tools have long been my ideal multitools, and the one's I carry daily. Therefore, it's perfect that my first Danish 2HO tool just happens to be a Charge. Many thanks AHB!