Well, the Villa won pretty comfortably, and following the mad dash home, I loaded the car up with tools and camping gear to meet up with the guys in Shropshire (more about that later). On my return, I took the opportunity to take a couple of group pictures of my multitool collection.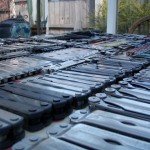 Freestyles:
I still haven't had chance to really try out the Freestyles, but there's no rush I guess. Initial thoughts are that the freestyle might be a little bit too minimal for my liking, but they look good, especially the CX version. I'll post my considered thoughts when I've had chance to use them a bit.
Right now, I'm extremely tired and thoughts are turning to work in the morning. I'll upload more pics to the collection blog before turning in though!